Business Operations

Conway Workshop Association prides itself on being a workplace in which health and safety is a key focus.  Staff and individuals participating in the training programs are assessed to determine if skill levels are aligned with the task to be completed.  In areas in which an individual expresses an interest to work, but displays a deficit in a specific skill required for safety and effectiveness, training is implemented.  The goal of the programs is to match up both interests and skills in determining the best training plan for the individual attending the program.
Portable Saw Mill
The portable saw mill provides individuals with skills in safety, measuring and producing lumber to be sold to the public as well as to provide lumber for use in the on-site woodworking shop.  Lumber produced can be milled specific to the requirements of the customer and is available throughout the year.  The saw mill operations gives individuals involved in this aspect of the operations an opportunity to not only obtain specific skills but to see the creation of a project from the beginning as a raw material, through all of the steps required until it is sold as a beautiful, handmade finished product.
Wood Working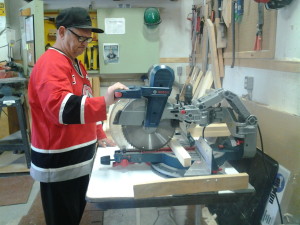 The woodworking shop supports skill development in the safe operation of all tools and techniques required to finish a product.  Projects vary depending on the requirements of the customer; however, basic skills include cutting, measuring, use of drills and screw guns, nailers, etc.  Products include:  pallets, lobster runners, lawn furniture, and garbage boxes.
Firewood/Kindling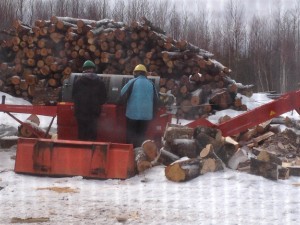 The Firewood production area teaches skills to individuals in the safe use of a firewood processor, chain saw usage, and wood splitters.  Focus is also on measuring cord wood, customer service and all aspects of firewood production from the eight foot length through to delivery of the firewood to the customer.
In order to minimize waste and to be good stewards of the environment, all wood not suitable for firewood is turned into kindling and sold in bundles to the public.  In addition, Conway Workshop uses scrap wood to heat portions of the wood working production area.
End of Life Electronics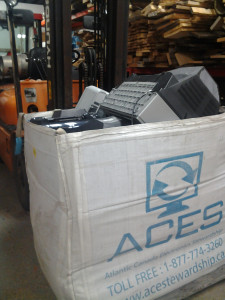 Conway Workshop is one of 33 drop off sites in the province for "End-of-Life" computers, televisions and other electronics.  This is a free service to the general public and the commercial and industrial sector.  The site accepts old, broken and unwanted televisions, computers, printers, cell phones, etc.  This aspect of operations supports skill development in the recognition of acceptable materials for the site, dismantling, packaging and shipping of items.  Weighing pallet skids of products to be shipped, shrink wrapping of goods for shipping, etc. are all components of skills learned in this aspect of the operations.